Water Leak Detector+Probe

Detects small leaks
The Water Leak Detector is designed for early leakage detection

Loud siren
The Water Leak Detector has a built-in 85 dB siren

Easy mounting and installation
Just insert the battery in the detector and add it into your Nearsens App
Leakage monitoring for optimal safety
Water damage is one of the most frequent and expensive insurance claims. The Water Leak Detector provides you with an early warning, in order to prevent or reduce potential damage from leaking roofs, pipes, or appliances, heavy rainfall, overland flooding, or rapidly melting snow or ice.
Leaks can go undetected for days, weeks, or months. The Water Leak Detector is designed for early leakage detection in private homes, camping trailers, caravans, garages, and in humid environments such as kitchens and bathrooms.
Together with the ZigBee-based Water Leak Detector, the probe adds advanced security functionality to smart home solutions.
Instant flood detection

Adjustable cable lenght
Exact cable lenght as you need

Plug and play
Follow the installation instructions in the Nearsens App and your system will be operational in a few minutes

Detects even small amounts of water
The Water Leak Detector is designed for early leakage detection

Battery level warning
The battery level and low battery warning will be reported thru a sound issued by the detector and as the same time in the App
Dimensions (Ø x H)

60 x 37 mm

Range

Max. 100 meters (outdoor)

Colors

White

Siren

Output 85dB @3m

Communication

Zigbee 1.2 HA certified

Temperature

Accuracy: 0.5 °C

Environment

0 to 50 °C, IP20

Power supply

1 x CR123 battery, 5 years
Water Leak Detector Probe
The Water Leak Detector Probe is an accessory option for the Water Leak Detector. The probe is designed to detect water in areas with a high risk of flooding, e.g. basements, or with difficult accessibility, i.e. underneath domestic appliances.
Extended water leak detection
The Water Leak Detector Probe comes with a mounting base, which is easily installed on the wall. The Water Leak Detector is placed in the mounting base, and the probe is placed on the floor.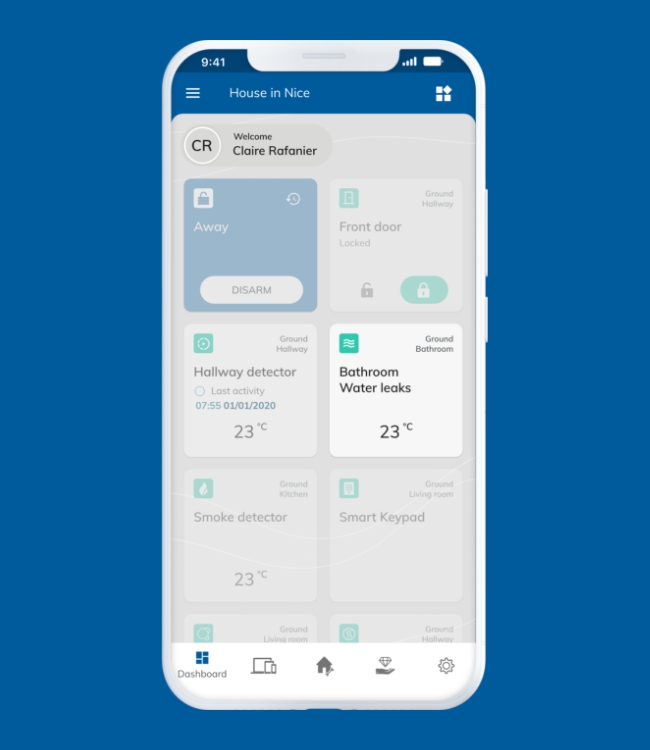 Water leak alert
In case of water leak, immediate notification is pushed to all users phone including the place where it occurs

Battery level
You can check if the battery is low or fully charge

Temperature
Information about current temperature