Start Pack

Tamper protection
The tamper switch detects opening of the unit to inform you in case of sabotage

Easy mounting and installation
Just insert the battery in the detector and add it into your Nearsens App

Always present
The pack secure has both local and central storage, communicates in Ethernet, Wi-Fi and GSM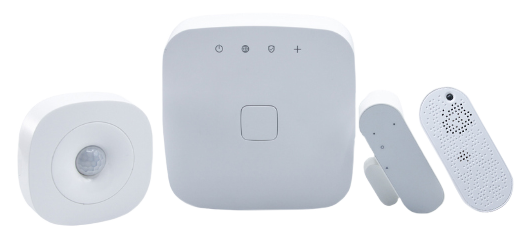 A simple and effective discovery
The Start Nearsens pack is made up of several products intended to make a home as secure as possible. This pack consists of the following items:
1x Gateway
1x opening detector
1x motion detector
1x smart siren

Battery backup
The Smart Gateway has an internal battery backup in case of power shortage

Always updated
Making sure the system has the right software is not the responsibility of homeowners

Protects end-users
Data traffic is stored locally and protected by security operators

No wires
The device can be placed wherever you wish: either screwed, stick on a wall, or freely placed
Simplify your daily life
Feeling good at home is surely the most important thing everyone dreams of, which is why Nearsens works every day to find simple and effective solutions to improve the daily comfort of habitats. Discover our wireless products, easy to use and durable over time. Take the time to breathe while keeping an eye on your home or office, all remotely thanks to our application which allows you to fully control our devices anywhere in the world.

Battery level
Real time battery level monitoring. Get alerted in case of any event

Alarm notification
If motion detector is associated to an alarm then alarm triggered because of intrusion, you will be alerted

Last activity
Know the last time the history of a day
Broadband connection
Information about your connection to Ethernet, Wi-Fi or 4G and get alerted if you loose one of them