Outdoor camera

Color night vision
Dual lenses and dual infrared lights to render better color images even in the lowest light conditions
Customized voice alerts
Record your own voice for customized greeting or deterrence.

Human/Vehicle detection
Detect the motion of person and vehicle shapes in real-time
Protects places that matter
Powered by embedded AI deep learning algorithms, the Outdoor Camera recognizes moving persons and vehicles, and distinguish those from animals, foliage, or other insignificant objects.
The camera will push real-time notifications to the user's phone when vehicles and/or persons cross specific lines that the user drew on the application.
Outdoor Camera features a built-in siren and strobe light, and can be programmed to use them upon detecting motion-based events. Users can change the siren to a pre-recorded audio track,
AI-Powered Dark Fighter

Dual-lens with built-in AI
Better render of color images even in the lowest light conditions

Weather is not an issue
Whole metallic enclosure and an IP67 rating. Can withstand rainy, sunny, stormy, and even snowy days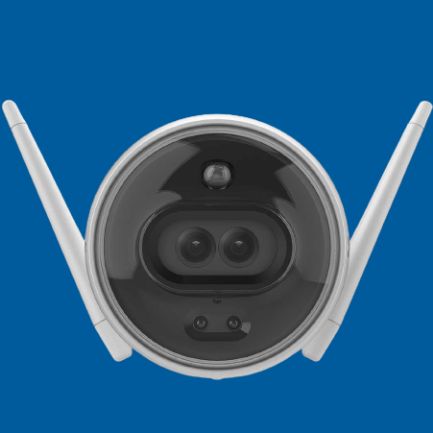 Voice alerts
Record your own voice for customized greeting or deterrence

Multiple Storage Solutions
Choose where to save your recordings either on MicroSD card or on encrypted cloud storage
Dimensions (W x H x D)

72 x 72 x 150 mm

Range

Max. 100 meters (outdoor)

Colors

White

Max Resolution

1920x1080 @50Hz 25fps

Communication

Ethernet, Wi-Fi

Video compression

H.264 / H.265

Environment

-30 to 60 °C, IP67

Power supply

DC 12V
Better than your eyes
Thanks to an algorithm based on Artificial Intelligence, the daylight is extrapolated and restituted during the night. Even in absolute dark night you will see everything as it was during the day.
Additionally the Outdoor camera can distinguish between a human body, car, pet or tree leaves and you will never get false alert. The most interesting is that you can set to get alerted for car and human body.
Not only the Outdoor camera can see well but you can as well communicate. As soon as you get alerted for an abnormal presence, you can talk through your phone to the intruder. You can even record your voice and let the camera do it for you.
For privacy and security purposes, you decide whether you want to store videos locally on SD card or send them to a secured cloud or even both at the same time.

Streaming live or playback
At anytime playing live or playback of videos history

Advanced picture
The most reliable pictures library including date, time

Extended Settings
Customize everything on thought your phone: object detection, light, notification, speech, storage,...

Advanced storage
Set backup storage plan in one click and cancel at any time just through the app