Gateway
The heart of the system
The home owner is in charge! Expand the smart home with as many components as you like, the Smart Gateway is crucial to create your customized system and maintain connection between all your installed devices.
The gateway includes a powerful processor to allow implementation of every complex local intelligence. It is designed to be cover a wide variety of use cases. Just pick up the one you are interested in and your dream will become true…
* Remote connection without subscription included
All-in-one solution for Security, Safety, Smart and Care
The brain of the entire system
The Gateway is the brain of the entire system. It is the one coordinating activities between all devices receiving and transmitting data to users.
The maximum data security between communication is provided by using 256 bit AES ciphering system which is mainly used in bank security system.
The most advance technology
The Nearsens Gateway is using the most advanced and reliable technology in the Internet Of Things (IOT) and this is why Apple and Google have recently adopted this technology for their future IOT devices.
Always presents
Besides, the Gateway works even without power supply. If the power shuts or someone intentionally unplugs the supply, it will continue to secure the communication for hours, keeping the system fully operational.
Additionally, the Gateway works even without internet connection. in a sens, if Ethernet and Wi-Fi connections goes off either because of an operator issue or someone intentionally shutting down the internet, it will switch to 4G immediately and secure the communication even forever (* One year of 2G/4G back-up connection included).
The Nearsens Gateway is always present and will never let you down!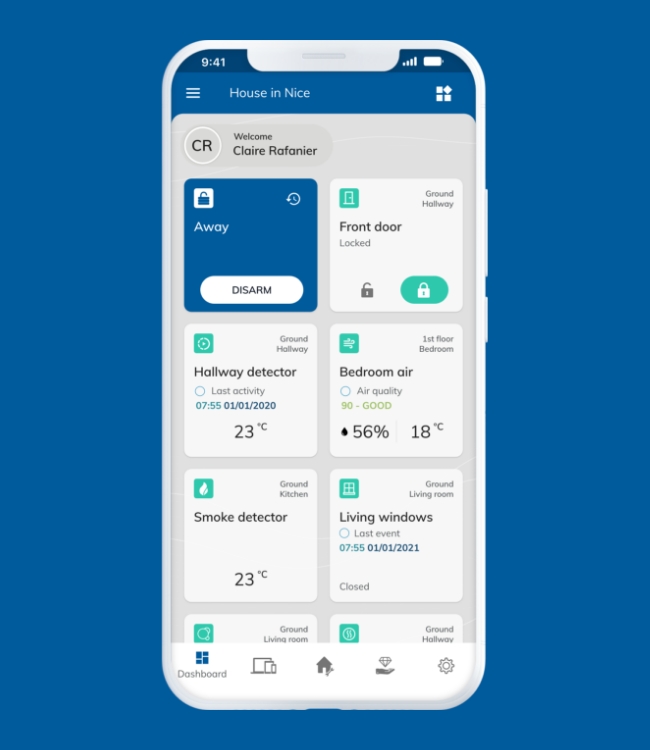 Lost of power supply
You can ensure that the Smart Siren is properly connected to the power supply

Battery level
Real time battery level monitoring. Get alerted in case of any event
Broadband connection
Information about your connection to Ethernet, Wi-Fi or 4G and get alerted if you loose one of them

Access management
Grant and remove 3 different level of access to whom and timeframe you wish