Indoor camera 360°

360° Panoramic view
You can see every angle of the room, using your phone as a remote control

Privacy when needed
When privacy mode is activated, the camera immediately stops recording

Two-Way Talk
Just open the app and listen in or talk to the room using the speaker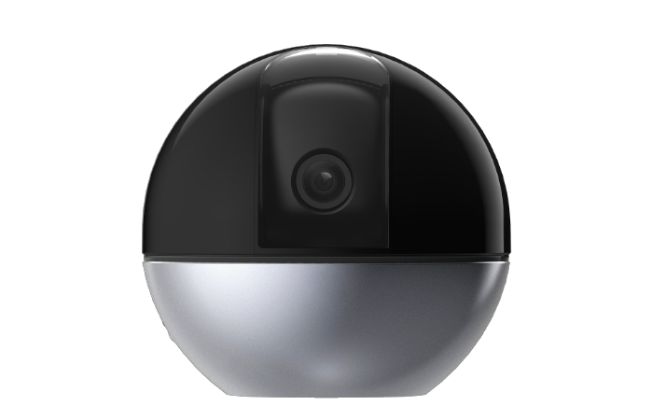 Full-Room Coverage
With the 360° camera you always enjoy peace of mind. The 360° camera is a Wi-Fi camera that lets you control your home, your store, or your office from almost any angle. Is the baby sound asleep? Is the dog doing okay? Is your store or office secure? Just check the app on your smartphone, wherever you are, whenever you want.
360° Indoor Camera

Crystal Clear Videos
Delivers clear high-definition 1080p video, rich colors, and sharp details

Privacy When Needed
The camera moves back into its helmet and immediately stops recording and disables live viewing

Panoramic View
You can see every angle of the room, using your phone as a remote control

Even in the Dark
The camera automatically switches to night vision when it's dark
Dimensions (W x H x D)

100 x 100 x 90 mm

Range

Max 100 meters (outdoor)

Colors

White

Max resolution

1080p HD

Communication

Wi-Fi

Video compression

H.264

Environment

10 to 45 °C, IP20

Power supply

DC 5V
Full feature but privacy kept
Such a small object will give 1080p resolution and large aperture. You can define what you want this camera to detect which is very much useful when you have pets home, so you do not get false alert when you are away.
At any time you can establish a Visio-communication through your phone. Thanks to integrated microphone you can talk and listen. One of the important functionality is that the 360° camera can keep your privacy.
Because we all have different needs and worries when talking about privacy at home, the 360° camera can answer all the configuration. For full privacy, activate the privacy mode and the camera moves back into its helmet, immediately stops recording audio and video and disables live viewing.

Streaming live or playback
At anytime playing live or playback of videos history. You can also share them through social media

Advanced picture
The most reliable pictures library including date, time

Extended Settings
Customize everything on thought your phone: Object detection, light, notification, speech, storage...

Advanced storage
Set backup storage plan in one click and cancel at any time just through the app